Futron praises Isle of Man's space competitiveness
Rocketeer — Thu, 08/11/2012 - 3:09pm
(Source: Futron press release)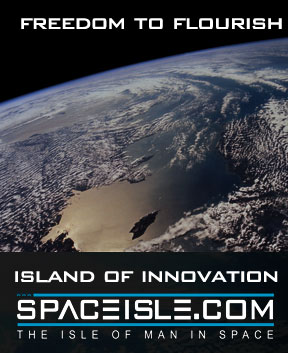 Bethesda MD, November 5, 2012 (Futron PR) – Futron is pleased to release a benchmarking assessment that evaluates the space competitiveness of the Isle of Man. The Isle of Man's space sector enjoys a competitive advantage against its peers which derives from the unique business model that the Manx government has adopted in developing the space sector on the Island. The study, an update of an analysis originally done in 2010, finds that the Isle has strengthened and grown its space sector.
"The 2012 results demonstrate how the unique government-industry partnership in the Isle of Man has fostered the development of a strikingly robust space industry, especially given the jurisdiction's size," notes Futron Space & Telecommunications Division Director Jay Gullish. "The Isle's space industry continues to mature and branch out into new areas of activity."
Futron's findings indicate that there is a demonstrated stability in the space sector activities existing on the Isle of Man and that the jurisdiction continues to attract new activities and business. Key performance indicators include:
Four satellite operators are currently making International Telecommunications Union (ITU) filings through the Isle of Man; demonstrating the neutrality of the Island. Companies are comfortable making fillings through the Island despite the presence of competitors doing the same. More than 22% of the objects on the U.K. Registry of Space Objects as of March 2011 are registered through Isle of Man companies. The Isle of Man was one of only two compared jurisdictions where the number of space-related companies increased between 2010 and 2012. These, and other results of the study, indicate that the Isle of Man continues to drive forward as a niche innovator in the global space sector.
The study benchmarks the Isle of Man's competitive position against seven peer jurisdictions – Bermuda, Gibraltar, Guernsey, Hong Kong, Jersey, Singapore, and the United Kingdom. To assess competitiveness, the report compares the Isle of Man to its peers across four broad areas of activity: Government Structure and Policy; Finance and Industry Activity; Human Capital Development; and Visibility and Participation. Using nine quantitative indicators, the study analyzes positioning and results, providing insight to policy makers regarding success, challenges, and future opportunities. Quantitative indicators are complemented by qualitative interview based analysis.
The complete study "Innovative Strategies for Space Competitiveness: Assessing the SpaceIsle's Policy and Results" is available for complimentary download.
Tip Jar
Help support Rocketeers by making a small donation towards site upkeep!
Twitter

Subscribe to the Rocketeers Twitter feed for instant updates!